At Villa Select we pride ourselves on having a team of experts – so with that in mind, two of our Villa Specialists Lottie Bailey and Camilla Freeman recently headed out to Lanzarote to take a closer look at our villas out on the sunny isle. Here's what they found…
The villas, in Puerto Del Carmen, are set amongst well-kept grounds filled with colourful flowers and leafy trees. Gardening staff here tend to the landscape daily, ensuring a pristine look.
Upon arrival, guests are given a tablet device, which can be used for a number of functions to make your stay easier – discover local attractions, learn more about the area, and contact reception for booking taxis and arranging extra housekeeping.
There's always someone on hand should you need them – there are as many members of staff as there are villas, and there's someone available 24 hours a day should you need assistance. Staff will collect and drop off luggage in golf buggies so all you have to worry about is relaxing!
Villa Types

All villas include sun loungers and an outdoor seating area for soaking up the sun. Villas are separated by plenty of foliage and flowers to ensure privacy, and each also includes laundry facilities.
(Villa Arturo 1 and Villa Arturo 2)
The standard villa category boasts modern furnishings, open plan kitchens, a dining room and lounge area. The lounge area then opens out with sliding doors onto the pool area, which features a patio and a lawn area. A small gate opens onto the pool area. These villas have three bedrooms – one en suite, while the other two share a family bathroom.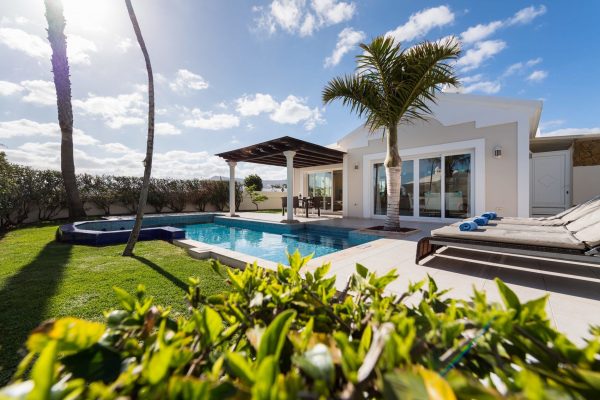 These villas are modern with a Moroccan-inspired twist. The front doors open straight into the living room, which overlooks the pool and patio area. Outside there is a patio area and decking around the pool; those travelling with small children should note that pool fencing is not available here. Bedrooms and bathrooms, decorated to a hotel standard, are very comfortable and clean. The bathrooms in particular are stunning, with tiled sinks and some showers and baths having an outdoor feel but still with privacy, making them feel more luxurious.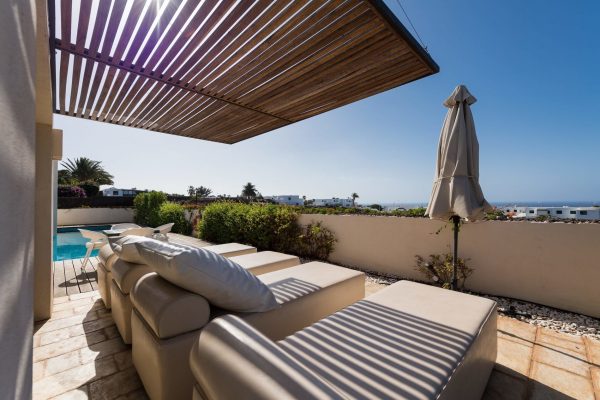 (Villa Antonella 1 and Villa Antonella 2)
Right from the offset you'll be impressed by these villas; the front door is huge, with beautiful Moroccan-style detailing. The living area overlooks the large pool, which extends right up to the window. The patio has a table and chairs and also a larger grass area with palm trees and lush greenery. Back indoors, the dining table is topped by a sparkly chandelier, and the dining room walls are beautifully decorated with artwork. Bedrooms are beautiful and relaxing, while bathrooms feature floor-to-ceiling windows with cactus or plant features. There's also a laundry room with a washer and dryer.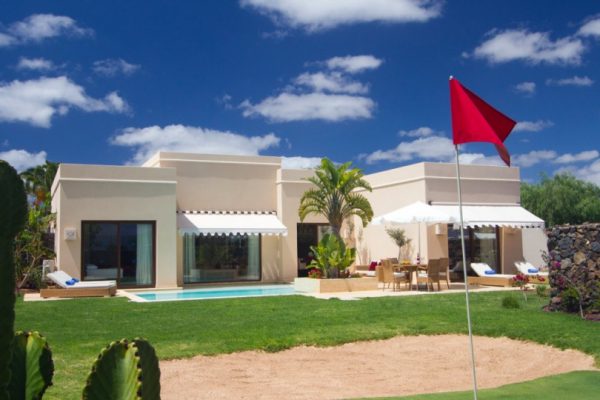 Location, Location, Location
Though still within a 30-minute walk of the hustle and bustle Lanzarote is famous for, the villas themselves are very tranquil and peaceful. The Biosfera Plaza shopping centre can be reached within ten minutes, and there are taxi ranks and bus stops nearby. The main strip and a lovely little harbour, both with restaurants and shops, can also be reached after a 10-15 minute walk. There's a small children's play park near the beachfront near the main strip.
Lanzarote Living
The restaurant at the villa complex has a huge tree as its centrepiece, with the trunk inside and the leaves extending out above the roof. Each morning there's an inviting breakfast spread, featuring a range of hot and cold meals, fresh pastries and juices.
The spa area has a Jacuzzi and loungers perfect for relaxing, as well as a more private dining area here – get in touch with reception via your tablet to arrange a meal here. The communal shower room by the pool area was very clean and of a lovely standard, with plenty of towels available.
Villa guests are welcome to use the villa barbecues (charcoal isn't provided), and then contact villa staff to have the barbecues emptied and cleaned.
Get Out and About

There's loads and loads to do here. While we were out there we spoke to lots of visitors who had been travelling to Lanzarote for many years and still return.
One group had visited the Rancho Texas Lanzarote Park several times, but on this latest visit still managed to spend six hours there! There's a few bus to the park from the town, and we were told it's a great day out with lots to see.
In the local area there are a number of different boat trips, glass-bottom boat trips, dolphin spotting trips, dinner cruises and more you can get involved in. While here you could even get the boat to Fuerteventura for the day!
Get in touch with your Villa Specialist to learn more about this are and book your stay for this summer.